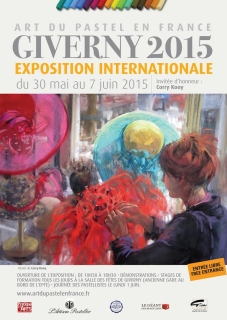 Sylvie Berman a été sélectionnée par "L'Art du Pastel en France" pour exposer au salon du pastel de Giverny, du 30 Mai au 7 Juin : C'est la possibilité de rencontrer pendant une semaine les meilleurs artistes de cette technique, de croquer les paysages de cette belle campagne où Claude Monet s'était établi, y créant son jardin, et l'immortalisant dans ses toiles.
Corry Kooy est l'invitée d'honneur 2015
Sylvie Berman has been selected by "Art du pastel en France"to figure at the international exhibition of Giverny, from May the 30th to June the 7th : it's time to meet  the best artists in this technic, and to sketch the landscapes of this beautiful country where settled Claude Monet, creating his garden, everlasting in his paintings.
Corry Kooy is the guest star in 2015 
Sylvie Berman fué seleccionada por "Art du Pastel en France" para participar a la exposición internacional de Giverny, del 30 de Mayo al 7 de Juno : es possible por una semana encontrar a los mejores artistas de esa técnica , también dibujar los paisajes de eso hermoso campo, donde Claude Monet ha vivido, creando su jardin inmortalizado en sus pinturas.
Corry Kooy es la invitada honarada de 2015.